Lawn, Shrub, and Plants Need Water
Without Adequate Water,
Some or All of the Landscape will Die
How Important is Water to Landscape Care?
Manual watering or an Irrigation System is the most important part of Landscape Care in the Tampa Bay area when rainfall is limited. Failure to properly water the lawn and landscape is the primary cause of poor landscape results and the lack of water for a prolong periods of time can ultimately kill your grass, shrubs, and plants.
For example, if your irrigation system malfunctions and is inoperable during several hot summers weeks with limited rainfall and you do nothing about it, most likely some of your grass will die and your yard will have be re-sod at a cost from a few hundred to thousands of dollars.
Who is Responsibility for Watering the Landscape?
The Irrigation System's operation and maintenance is the responsibility of the customer. It's a given, the customer must be able provide the watering to the landscapes that's vital for Collins to achieve the best results possible.  Hence, Collins highly recommends you keep your Irrigation System in tiptop shape so the system can deliver the proper amount of water uniformly over your lawn, shrubs, trees and planting beds.
Can Your Lawn Signal when it's Time to Water?
When a lawn is ready for water, usually one of the 3 signals will be presented:
Folded leaf blades
Blue-gray color
Footprints visible for a long time in the grass (the doesn't have the resilience to spring-back)
Testing the Irrigation System
Your Irrigation System must be tested at least once a year in the spring to ensure each sprinkler head is working reliably and delivering adequate water for the sprinkler head coverage area. The entire Irrigation System must be checked that each zone is working and each sprinkler head in the zone is working correctly.
In the Tampa Bay area, the proper amount of water is 1/2 " to 3/4″ of water duration a single irrigation zone cycle. This can be measured by placing empty tuna cans around the perimeter of your irrigation zone and set the duration time to fill the cans to 1/2″ to 3/4″.
Please note, over watering especial those lawns with poor drainage, can be damaging to your yard by too much water that can't be absorbed. Over watering can result in root rot and fungus and also the grass roots will grow close to the surface, instead of growing deep into the ground.  Grass with shallow roots are easily stressed during droughts.
Also, the Irrigation System's master controller must be checked to ensure the start time conforms to the local county watering restrictions, and for deed-restricted communities, HOA, rules are being obeyed. Please ensure the most crucial master controller setting for watering duration as measure above for each zone is set correctly. This setting will determine the amount of water each sprinkler head will deliver.
If your Irrigation System is not working correctly, call a reputable professional Irrigation Repair technician to test the entire system, perform adjustments repairs and adjust each sprinkler heads. Many landscape maintenance companies that perform grass-mowing, shrub & tree trimming, replace a yard by re-sod, and install trees. shrubs, plants and flowers, also may plan, design, install irrigation systems and provide irrigation maintenance and repairs.
What happens if the Irrigation System Fails?
If an Irrigation System is malfunctioning, over time,  those areas that lack water will appear brown or the grass or plants may be dead. If a Collins technician is on your property for a service visit and sees the brown or dead areas as the result of an irrigation water failure, we will immediately notify the customer of the problem.
If the customer alerts us to a landscape change due to brown or dead areas, we analyze the problem and determine the root cause. In this case, the problem's root cause is an irrigation malfunction, we will immediately inform the customer that their irrigation system is in need of repair to be able fix the original landscape problem of brown and dead areas.
Irrigation Issues can damage Landscape Health
The following irrigation problems can reduce or inhibit or stop irrigation water flow to specific areas. A single Irrigation System can have dozens of problems that will prevent your irrigation system from operating at peak efficiency and can reduce its effectiveness by as much as 70%. These items must be repaired to allow water to be correctly distributed.
Clean each sprinkler head of dirt clogs
Adjust each sprinkler head for proper individual coverage
Sprinkler head that sunken or buried below the surface must be raised
Replace broken or heavily leaking sprinkler heads
Shrubs or trees interfere with sprinkler head coverage, sprinkler heads must be moved
A broken irrigation pipe can reduce water pressure, causing the entire system to provide a small portion or no water
Poor drainage in a zone can cause over watering, reduce watering duration settings
Water after each Collins service; treatment of fertilization and/or  pest & disease control
If county watering restrictions, allow for 2-days a week, ensure the system is set for two watering times
If the circuit breaker tripped for the Sprinkler Control box, reset and validate programming
If the zone valve is broken, all sprinkler heads for that zone are inoperable, replace zone valve
Ensure the water times and duration are set correctly and conform to the County Watering Restrictions
To learn more about landscape watering, click on Irrigation by the University of Florida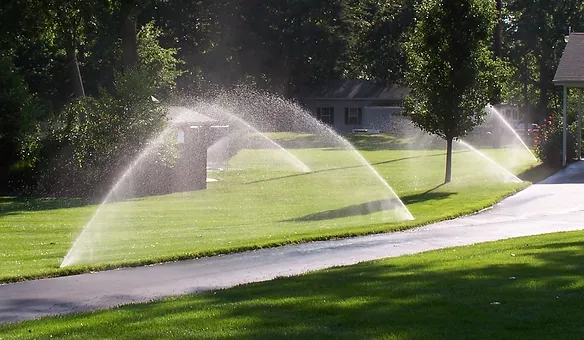 A fully functioning Irrigation System delivers the water your landscape needs to look  beautiful.

Values
Collins value system requires respect for the individual that includes our staff, customers, suppliers, vendors and our business partners.

Customers
At Collins, the customer comes first. We seek service excellence, best results  and  100% customer satisfaction.
Know-how
Our team approach to expand and share our collective expertise by early meetings, on-the-job phone calls and field photos.

Culture
Wes, Collins owner exemplifies our culture. He's a hard working technician, finds the problem's root cause and gets results.