Mosaic Virus
Mosaic Disease is a concern for St. Augustinegrass in Pinnellas
Mosaic Kills Some St. Augustinegrasses
No Known Cure or Treatment for Mosaic
Does the Mosaic kill all types of grass?
No, some species resist this viral disease. The most susceptible grass to Mosaic is 'Floratam' St. Augustinegrass that has resulted in the grass dying, while Palmetto' and 'Bitterblue' may get the disease but are more resistant. Mosaic is currently only a concern of St. Augustinegrass in Florida.
What is the worst expectation of a Mosaic Infection to St. Augustinegrass?
St. Augustinegrass infected with Mosaic disease in some species will progress to kill the entire yard over time. The disease can't be stopped by any known Lawn Care products for most of the infections. Fungicides and pesticides aren't effective and cannot stop the spread of the Mosaic viral disease. The sod replacement of the entire yard can cost thousands of dollars.
How does the Mosaic Disease spread?
The disease is transmitted from yard to yard by lawnmowers, line trimmers, insects and other equipment or vehicles that can transfer clippings and sap-containing virus from lawn to lawn. Mosaic can spread by infected sod during the times of the year when symptoms are mild and not obvious. The most vulnerable grasses are those in poor health or stressed.
How to prevent the spread of the Mosaic Virus?
To curtail the spread of this virus in Tampa Bay areas and specifically in the Pinellas County where most of the virus cases occurred, lawnmowers and other equipment should be sanitized before going to the next lawn property. The goal is to minimize the potential of infection by plant material from one lawn to the next lawn. The following are preventive measures to stop the spread:
Keep infected grass clippings on the property don't remove
Remove clippings and all plant material from lawnmowers and other equipment before going to the next lawn
Disinfect by spraying with diluted bleach solution on lawn mower undercarriage, equipment such as weed-wacker, worker's shoes or anything that has the potential to import the Mosaic Virus to a healthy lawn
To learn more about the Mosaic Virus in Florida by the University of Florida, click on Mosaic Disease of St. Augustinegrass Caused by Sugarcane Mosaic Virus.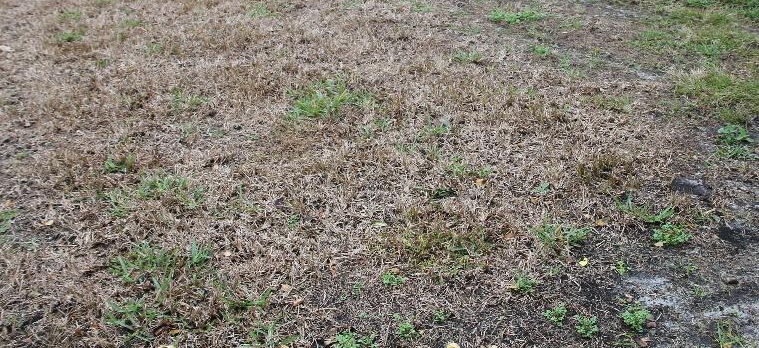 Mosaic disease caused by Sugarcane Mosaic Virus killed this St. Augustinegrass Lawn in Pinellas County, Florida. Credit: Phil Harmon, UF/IFAS

Values
Collins value system requires respect for the individual that includes our staff, customers, suppliers, vendors and our business partners.

Customers
At Collins, the customer comes first. We seek service excellence, best results  and  100% customer satisfaction.
Know-how
Our team approach to expand and share our collective expertise by early meetings, on-the-job phone calls and field photos.

Culture
Wes, Collins owner exemplifies our culture. He's a hard working technician, finds the problem's root cause and gets results.