Get Our Quote
Just Friendly Service with no sales pressure and free professional Landscape assessment.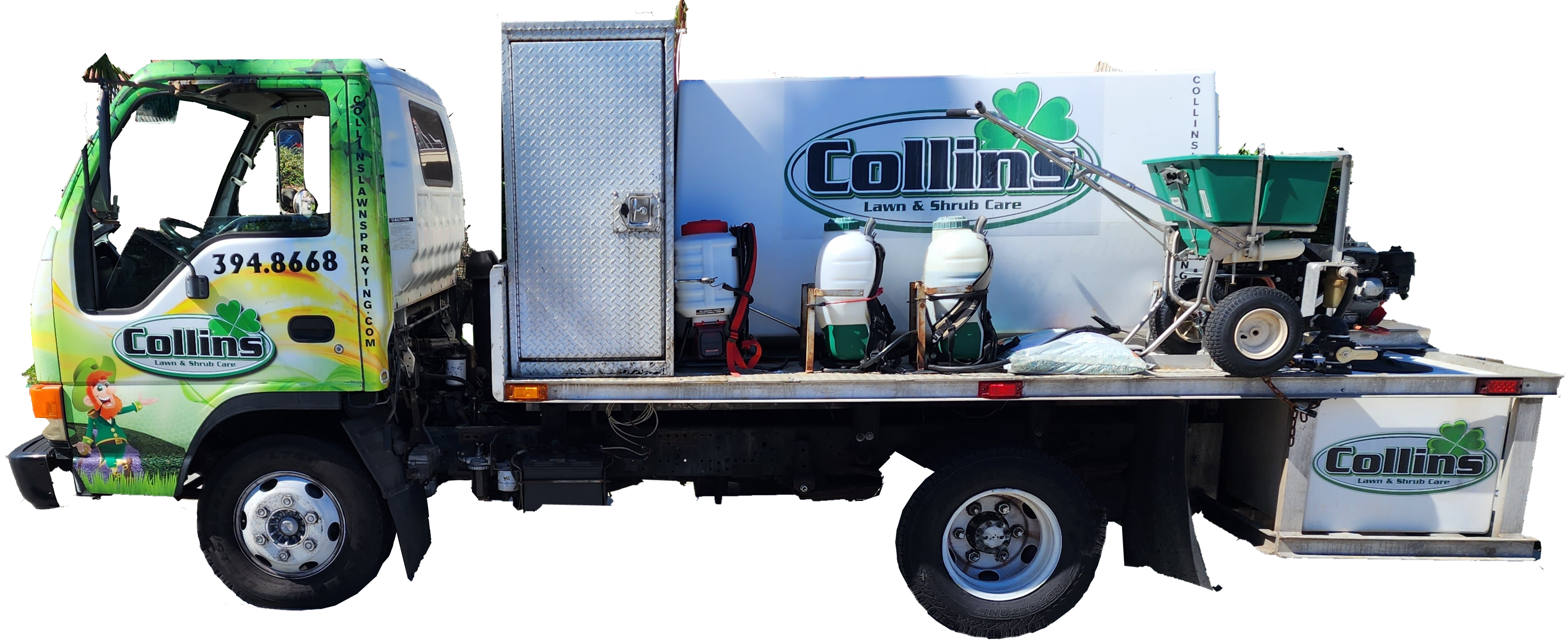 Frequently Asked Questions
When Hiring a Landscape Care Provider, What Questions should You Ask?
Does your provider have the experience and know-how to create a healthy and beautiful lawn an landscape?
Does the provider have a State of Florida license to administer fertilization and Pest Control? If so, what is the license number?
Is the provider fully insured for liability and damages?
How long has the company been doing business in the Tampa Bay Area?
What exactly does the provider offer in detail? When comparing landscape care services, the products used may vary significantly from company to company. Ensure you are comparing apples to apples and pears to pears.
Make sure you get the Best Valued for your money.
If you are unhappy with the service, for example, due to too much rain, will the provider perform a free service call at no additional charge to reapply for the treatment?
Collins Lawn and Shrub Care LLC provide answers to all your questions. Call (727) 394-8668 for a free estimate and the quality services you can count/
Who are Collins' Customers?
Collins' services are tailored to deliver the "superior landscape care" for each of our individual customer's needs:
Individual Homeowners
Restricted Deed Community Homeowners
Large Estates Customers
Condominiums Associations
Home Owner Associations (HOAs) with Front Entrances and Common Areas
Property Managers
Real Estate Agents
Campus Business Properties
Businesses with Storefronts, parking lots, road frontage, and landscape areas
All types of Commercial Properties
What is the Easy Way to Become a Collins' Customer?
Pick up your phone and call (727) 394-8668 and talk to our friendly Collins customer service representative or our company's owner, Wes. Our business office is open during the week from 7:00 am to 4:00 pm. Next, you want to provide us with your contact information, the property's physical address, and the type of Landscape Care services you want.
The most important part of the phone call is to schedule a date and time when our technician can come to your property. This visit is a complimentary consultation and free analysis, inspection and a free estimate. It's free with no obligation to purchase any of our services – just a friendly discussion with an expert by either our Field Manager or owner. Generally, our Field Managers can be available for our free analysis within two days for this on-site visit.
When our experienced field manager arrives, he will walk through your property and observe details of your landscape and perform the following:
Inspect the grass, trees, shrubs, and ornamental plants for any sign of disease or damage caused by insects or mishandling
Evaluated the health of your landscape
Make a note of any problem areas and plan a course of action for correction
Measure your property for square footage
Review a plan for monitoring and treatment
Determine the price for services with some options
Talk with you about your landscape care
Provide our professional advice and recommendations
Deliver our Free Quote based on your needs and any options you select
There are no unnecessary extras or hidden charges
If we can't deliver results of a healthy and green lawn and landscape, Collins won't take  the job.
After You Receive Our Quote — the Decision is Yours
If you decide not to accept our offer (after we deliver our inspection and quote the price), we will thank you for your time and leave you a copy. Our offer is valid for 30 days if the landscape conditions remain the same as the day of our visit. Hopefully, you will call us back.
If you choose us as our landscape care service, there is no contract for our services. You pay for each service treatment after the treatment is applied. Collins begins your service that day or a day in the next week or so. We will also deliver our service to align with your irrigation watering schedule if possible.
Our technician will leave an invoice after each treatment with information about your landscape and instructions to keep your lawn, trees, and shrubs healthy.
Collins has used the above sales process to gain new customers for the past 20 years – just friendly and courteous service and never any sales pressure.
We rely on our beautiful lawns and landscape to speak for us. Call us at (727) 394-8668 today to schedule a free evaluation and estimate.
What Payment Options are Available?
Collins Lawn & Shrub Care LLC provides QickBook Invoice and we also accept checks, Visa, and MasterCard, We encourage our customers to pay by responding to QuickBooks Invoice, but we accept credit card and online payments.
How Does Collins Price Services?
Collins calculates the pricing of Landscape Care Services using the following variables:
Square-Footage of the coverage area to be treated
Type of Landscape Care services and whether its a bundle
The current condition of the landscape
Any issues that need to be addressed or resolved
Product mix to keep the landscape healthy going forward
Number of periodic treatments
Any discounts that apply – see our specials, click Collins Coupons to learn more
Collins prices Landscape Care services for each customer using the above variables. Pricing will vary from customer to customer depending on the scope of effort and products required. Our Landscape Care Services are customized to our customers needs and budget.
Call (727) 394-8668 or click on Free Quote to get our price for Landscape Care Services
First Step: Contact Us for a Free Quote.
Second Step: Say Yes to Our Services.

Third Step: Enjoy Your Beautiful Lawn and Landscape.
You can contact us by email, phone, or by completing an online form or Free Quote.
How Do We Reduce Lawn Care Prices?
Better Lawn Care Prices by Reducing Costs
Collins Lawn and Shrub Care LLC is focused on delivering customers the best possible value by lowering our costs, using quality products, and consistently providing quick responsive service. As you may know, our pricing heavily depends on the amount we pay for business expenses. Collins makes every effort to reduce costs so that we can pass on these savings to our customers.
Here's How Collins Cuts Costs:
The following are some of the ways we reduce expenses and passes the saving on to you:
Implement practical, aggressive operating budget and tenaciously execute it
Encourage our customers to pay by responding to QuickBook Invoice via our email
Optimizing services routes to reduce mileage and travel time for each service call
Pre-Test products to select best-of-breed and product mixes for effectiveness
Buying products in large quantities at a reduced price
Performing in-house training to reduce travel expenses for education
Use the University of Florida's knowledge store for research and in-depth analysis
We keep up with latest horticultural advancements and newest products and application methods
We do the Landscape Care job right the first time.
At Collins, we continuously focus on reducing expenses and improving efficiency to get the job done effectively and efficiently.
What is Superior Lawn Care?
Superior lawn care is a comprehensive service you can trust from a reputable lawn care company that provides various services for both homeowners and businesses. Lawn care services include lawn, fertilization, weed, disease, and pest control. In addition, superior lawn care entails value-added consultative recommendations to help improve the health of your grass by unsolicited advice, such as your grass is mowed too short or your irrigation system has broken sprinkler heads.
Superior lawn care service is committed to delivering competitively priced services on time with a dedicated, consistent schedule with high-quality products. A landscape care company must use only the best products and equipment; its employees are highly trained and experienced. Also, the company must be committed to excellent customer service, and its employees are always available to answer questions and address concerns.
If you are looking for a landscape care company that can provide you with Superior Lawn Care Services, look no further, Collins wrote the book on Superior Lawn Care Services.  Collins Lawn and Shrub Care LLC have a long history of proven results of providing excellent customer service and meeting customers' needs like you with beautiful, healthy lawns.
Here are some of the benefits of using Collins:
High-quality services: Collins uses only the best products that are pre-tested, the latest equipment, and advanced methods, and its employees are highly trained and experienced.
Competitive prices: Collins is committed to providing high-quality services at competitive prices that are customized to your needs and budget.
Excellent customer service: Collins's employees are always available to answer questions, address your concerns, and are always friendly and courteous.

Range of services: Collins offers a variety of services, including Lawn Care and Shrub and Tree Care. Our regular services include fertilization, weed control, disease control, pest control, and Other Landscape Services.
If you are looking for a lawn care company that can provide you with all of the benefits of superior lawn care, Collins Lawn and Shrub Care will do the job – guaranteed!
What Lawn Care Services Do You Offer?
Collins offers Lawn Care Services delivered either 4, 6, 8, or 12 times a year as a pay-as-you-go service. Our service guarantee means return visits at no charge to resolve a problem after our treatment.
Collins Lawn & Shrub Care knows Florida lawns with over 30 years of experience in the Tampa Bay area.  We will keep your lawn looking great and healthy all year long, GUARANTEED!!  Our Lawn Care Service includes:
Fertilization
Weed Control
Insect Control
Fungus Control
Grub Control
What are 3 Things You can Do to Prevent Lawns Damage?
The 3 Failures that Damage Lawns:
Failure to adequately water the lawn regularly or after each treatment of fertilization and pest & disease control or correct sprinkler water coverage
Cutting the grass too short or dull lawnmower's blade
Mowing Service fails to wash lawnmowers when going from property to property and carries insects from infected yards
At Collins, we deliver our invoice to your door after every service call. Our invoice provides the status and comments about your landscape and instructions, such as to water the yard within 48 hours after treatment. After each service visit to your property, we look for anything that indicates any of the 3 failures and will immediately notify you with a note in our invoice, Our invoice exemplifies our Customer Partnership in action.
Get our Landscape Care call us (727) 394-8668 or click on Free Quote.
What Shrub & Tree Care Services Do You Offer?
Collins offers Shrub & Tree Care Services delivered either 4, 6, 8, or 12 times a year as a pay-as-you-go service. Our service guarantee means return visits at no charge to resolve a problem after our treatment.
We have the expertise to keep your trees and shrubs looking healthy and beautiful and protect them from harmful insects and disease.  Guaranteed!!
We offer treatments for everything from small shrubs to large palms and apply treatments specific to each type of plant or tree to ensure proper results. Our Shrub & Tree Care Services includes"
Granular Fertilization
Liquid Fertilization
Tree Injections
Palm Injections and Drenches
Tree and Shrub Insect Control
Fungicide Applications