The Pinellas Lawn Care that Works and Can Transform Your Yard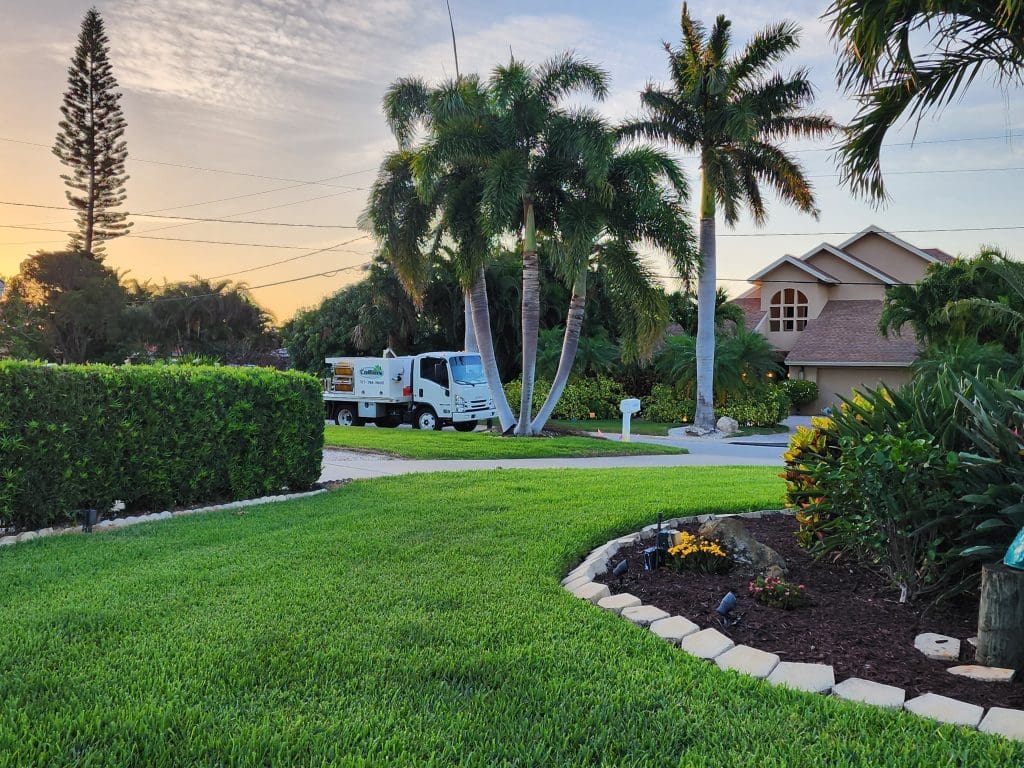 Collins Lawn and Shrub Care is a respected local family-owned company with extensive horticultural expertise and a proven record of providing quality lawn fertilization, effective pest control, and reliable weed control solutions. Hiring Collins can offer several significant benefits for homeowners or property managers looking to improve their yard's appearance and health and save money as a long-term investment. Collins Lawn and Shrub Care is the Pinellas Lawn Care that works. Here are some key advantages:
Expertise and Experience: Our local company has a solid reputation for serving Tampa Bay for over 20 years. We are also known as the Pinellas Lawn Care that works. As a local business, our livelihood depends on consistently delivering results and satisfying our customers. We understand the specific challenges and conditions of the Tampa Bay area that affect lawns. Our expertise enables us to effectively tailor our services and product treatments to address local issues.
Proven Track Record: Collins has a proven track record of successful lawn care and landscape services, demonstrating our ability to deliver results consistently. Based on our past performance and satisfied customers, you can trust our 30 years of know-how to keep your yard healthy, lush, and green to be envied by neighbors. We got our reputation as the Pinellas Lawn Care that works because of the large number of customers in Pinellas County that have properties serviced by us that are beautiful, healthy, and lush yards.
Quality Products: Our reputable lawn care company uses only high-quality fertilizer and efficacious pest and weed control solutions. Our products are pretested, and we customize each treatment's product mix to be effective and safe for your lawn and the environment.
Consistent Results: As a trusted company, you can expect Collins to deliver consistent results over time to bring your yard back. Collins Lawn and Shrub Care follow best practices and deploy reliable techniques to maintain the health and appearance of your lawn.
Tailored Solutions: Collins looks at each lawn to be unique. We provide customized solutions based on the specific needs of your yard. Our assessment and evaluation of your lawn's condition allow us to effectively formulate the appropriate treatments to address any issues.
Time and Effort Savings: By hiring our professional team, you free yourself from the time-consuming tasks of researching, buying, and applying lawn care products. We handle all aspects of lawn care, allowing you to focus on other priorities.
Sustainable Practices: Our family-owned business is vested in our community's well-being and environment. We implement eco-friendly and sustainable practices that benefit your lawn's overall health and the surrounding ecosystem.
Customer Service: As a local family-owned business serving Tampa Bay for over 20 years,   we strongly emphasize customer satisfaction and building long-term relationships. We want to keep our customers for a lifetime. Collins always provides personalized customer service to suit our customers' needs and promptly addresses customer concerns.
Monitoring Your Lawn: During every service visit to your property, we assess and evaluate your lawn, and we rely on our customers to notify us of any change in the lawn's appearance or health.  In fact, we have an online form to report any changes to your lawn, Report a Problem. We want to know as quickly as possible any changes to the health of your lawn, so we can immediately address the problem before it kills your lawn,
Aesthetic Improvement: Our customers have seen our Lawn and Shrub Care services in action firsthand. We use our expertise and the right products to transform the yard from a patchy, weed-infested space into a lush and healthy green landscape. This aesthetic improvement can significantly enhance your property's curb appeal.
Long-Term Cost Savings: By hiring Collins Lawn and Shrub Care, you are investing in your property to prevent costly problems in the long run. A well-maintained lawn is less susceptible to diseases and pests, reducing the need for expensive interventions and preventing the worst-case scenario of the thousands of dollars required to resod your property.
In summary, hiring Collins Lawn and Shrub Care (a well-respected local family-owned company with experience and a proven record in lawn care, pest control, and weed control) can yield impressive results, giving you a beautiful, healthy, and vibrant lawn that enhances the overall value of your property. We earn the reputation as the Pinellas Lawn Care that works.